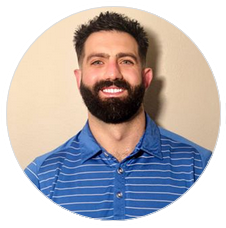 Dr. Brett Chance, D.C., FACTR, CES
Chiropractic Physician
Dr. Brett Chance is an alum of Lake Howell High School and Rollins College both in Winter Park, FL. At Lake Howell High School he excelled playing basketball for the SilverHawks having won a State Championship in 2007, being inducted into the Seminole County Hall of Fame, and earning a Division I scholarship to Canisius College in Buffalo, NY. Shortly after his college career began, he was diagnosed with hip impingement in both of hips and transferred back to Orlando for immediate medical treatment. He completed his undergraduate and basketball career at Rollins College in Winter Park, FL. During his extensive rehab process he was introduced to Chiropractic treatment which focused on a whole body healing of adjustments coupled with functional rehabilitation and nutrition. These methods set the core principles of Dr. Chance's philosophy on Chiropractic treatment and his integrative approach on health: Adjustments, Functional Rehabilitation, and Nutrition.Dr. Chance attended and completed his Doctorate at Palmer College of Chiropractic in Port Orange, FL.  The school is regarded as the most prestigious chiropractic institution and offers the most comprehensive education in chiropractic technique as well as a very high standard of academic excellence. Dr. Chance is a Board Certified Chiropractic  Physician  and Board Certified in Physiotherapy.
Whether your objective is to simply "make this pain go away" or "fix this so that will never happen again," we will customize our clinical approach to allow your goals to be fulfilled as expeditiously and cost effectively as possible. We will teach you how to care for yourself in terms of dealing with an unfavorable lifestyle and work place conditions contributing to your health problems. We also provide rehabilitative and strengthening exercises, nutritional counseling,  and stress management strategies to help you achieve your health goals.
Dr. Chance focuses on the whole body approach to treatment. We base our treatment around fixing the root cause and not providing band-aid care. Our goal is to get and keep you out of pain. He uses his bio-mechanical breakdown methods to evaluate and treat patients  with a multitude of symptoms.
Dr. Chance is married to his high school sweetheart and together they reside in Casselberry, FL. In their spare time they enjoy watching and attending sporting events, working out, the beach, and trying the delicious food Orlando has to offer!
Accolades:
Over 300 hours post-doctorate in Rehabilitation.
Functional and Kinetic Treatment with Rehab (FAKTR)
Rock Tape Functional Movement Taping (RockDoc)
Manual Muscle and Fascial Activiation
Performance Enhancement Specialist certified by the National Academy of Sports Medicine.
Corrective Exercise Specialist certified by the National Academy of Sports Medicine (NASM)
Activator Methods certified
Over 100 hours of extremity manipulation
Instrument Assisted Soft Tissue Mobilization (IASTM)
What People Say
testimonials from our patients
He is very proficient and effective has been helping me recover from a serious injury and so far has been making sure I am getting the support and information needed as well as relief. has been supportive and motivational when i have none, very happy to have him as my doctor thank you Dr. Chance
After a few months of herniated disc pain I decided to see Dr. Chance. The pain made my job difficult to perform. I work outside and am constantly lifting.
Following his guidance and exercise routines the pain has practically gone away. My balance is much better too.
Thank you Dr. Chance!